Character Development (part 2)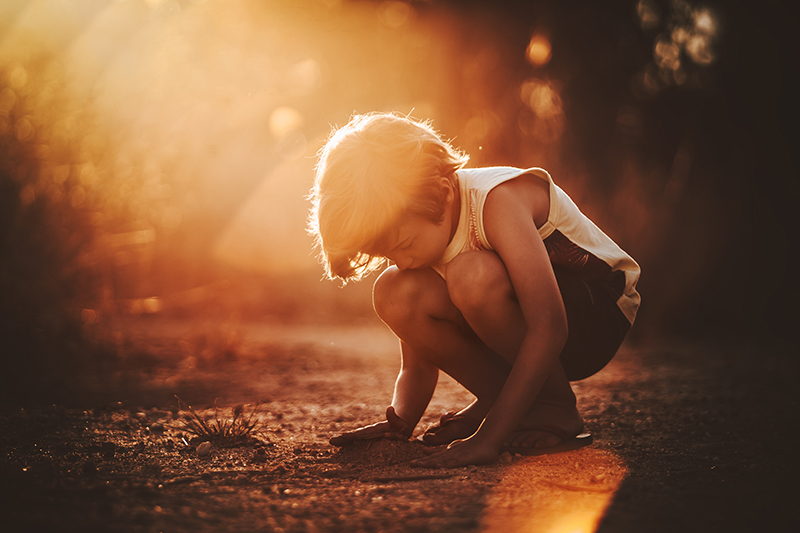 This is part 2 of a 3-part series on character development. You can read part 1 here and part 3 here.
I like avocados. No, I absolutely love avocados – and that's an understatement. What I don't like is how much they cost. I would really like to grow some avocados, but the problem is that I live in Michigan, and I don't think avocado trees can survive 20 degrees below zero. You see, my obstacle to fresh avocados for the picking is a lack of proper environment.
Environment
Character development has some similarities to growing avocados (or any other agricultural endeavor for that matter). Little humans, just like little plants, need the right environment to grow strong and healthy. Even as adults, our environment significantly impacts the shaping of our characters, but this is even more true for the soft and moldable characters of children – the proper environment is very helpful for proper character development. In this blog post we will consider some important environmental factors in developing a character for eternity.
A lesson from history
To read of the lives of the great spiritual leaders of the Bible is inspiring and instructional, and in studying about these great characters, we find some things in common that developed their characters. Many had similar environmental factors in their upbringing that developed the strength of character they showed in adulthood.
"Read the history of Abraham, Jacob, and Joseph; of Moses, David, and Elisha. Study the lives of men of later times who have most worthily filled positions of trust and responsibility. How many of these were reared in country homes. They knew little of luxury. They did not spend their youth in amusement. Many were forced to struggle with poverty and hardship. They early learned to work, and their active life in the open air gave vigor and elasticity to all their faculties. Forced to depend upon their own resources, they learned to combat difficulties and to surmount obstacles, and they gained courage and perseverance. They learned the lessons of self-reliance and self-control. Sheltered in a great degree from evil associations, they were satisfied with natural pleasures and wholesome companionships. They were simple in their tastes and temperate in their habits. They were governed by principle, and they grew up pure and strong and true. When called to their lifework, they brought to it physical and mental power, buoyancy of spirit, ability to plan and execute, and steadfastness in resisting evil that made them a positive power for good in the world." – The Adventist Home, 134
Did you notice that list of environmental factors and the resulting character traits in these great men? Let us consider four of these factors in more detail – activity, difficulty, sheltering from evil associations, and country living.
Activity and work
This sentence in the above paragraph really caught my attention: "They early learned to work, and their active life in the open air gave vigor and elasticity to all their faculties."
Science has shown us many benefits from physical activity, which, aside from a vast number of physical health benefits, include improvement in brain function and development. (For more information on that topic, see my blog post on physical activity.) We often don't consider the benefits of physical activity for character development, however.
Physical activity releases endorphins, which help us feel happy, and has been found to improve mood [1] and decrease depression [2]. This can significantly improve behavior in children, which most parents and teachers will certainly appreciate!
According to a study published in the Developmental Review, physical activity has been found to significantly improve executive function in children.[3] This has benefits for the development of self-control. Interestingly, however, the study also found that "not all forms of aerobic exercise benefit equally." They found that "cognitively-engaging" exercise had a stronger effect than just plain exercise.
Not all exercise is created equal. Forms of exercise in which the mind is engaged are superior to forms of exercise which are merely for the sake of exercise. This lends significance to the "early learned to work" part of that paragraph from The Adventist Home mentioned above. Engaging in useful work, especially outdoor work, is more beneficial than doing pushups or going for a jog. Useful work actually improves executive function and cognition in general.
"The greatest benefit is not gained from exercise that is taken as play or exercise merely. There is some benefit derived from being in the fresh air, and also from the exercise of the muscles; but let the same amount of energy be given to the performance of helpful duties, and the benefit will be greater, and a feeling of satisfaction will be realized; for such exercise carries with it the sense of helpfulness and the approval of conscience for duty well done." – Fundamentals of Christian Education, 418
Useful work has been found to improve the intellect, cause-to-effect reasoning, hand-eye coordination, problem-solving skills, and organization of the mind. Surely parents will want to add this tool to their character-development toolbox!
"Children who are not expected to be responsible may feel unworthy and have low expectations for themselves." – Lisa Stamps, PhD
"The training of attention in tasks at home transfers to academics later in life." – Dr. Michael Posner, Dr. Frances Friedrich
The phrase, "idle hands are the devil's workshop" is certainly a true one. Keeping children active is one very important method of keeping them out of trouble and developing a good character.
"Children are naturally active, and if parents do not furnish them with employment, Satan will invent something to keep them busy in an evil work. Therefore train your children to useful work." – The Review and Herald Oct. 9, 1900
Difficulty – even hardship and poverty
Continuing in the paragraph from The Adventist Home that we started with, in describing the upbringing of the great men of the Bible, we read, "They knew little of luxury. They did not spend their youth in amusement. Many were forced to struggle with poverty and hardship. … they learned to combat difficulties and to surmount obstacles, and they gained courage and perseverance. They learned the lessons of self-reliance and self-control." – The Adventist Home, 134
This is not what would generally be termed an easy life! Human nature gravitates toward ease and comfort, not obstacles and hardship. Yet, it is difficulties, not ease and comfort, that develop strong moral character. Science has shown that difficulties experienced in childhood actually help one to deal with stress later in adulthood.
"Coping with mild early life stress tends to make subsequent coping efforts more effective…." – "Prefrontal Plasticity and Stress Inoculation-Induced Resilience" Journal of Developmental Neuroscience, 2009.
It is important to clarify the type of stress that is meant by this and other research on the topic. Difficulties and hardships in childhood should always be practical ones, never emotional ones, such as those involving separation from a parent/caregiver or emotional distress. While the research is clear that practical difficulties are beneficial for character development and even later mental health, science also clearly tells us that emotional and/or separational stress early in childhood negatively effects character development and later mental health.
I will cover this topic in greater detail in an upcoming article as we continue our series on character development, so I will just give a short explanation and examples here.
Practical difficulties will mean different things at different ages. For the toddler with undeveloped motor skills, folding a pair of socks, carrying his bowl to the sink, or "sweeping" the floor may be a real trial and hardship! Be there with him, give encouragement, but allow him to accomplish the task through his own effort. This helps develop perseverance, focus, and many other quality character traits.
For the older child, difficulties could take the form of needing to earn their own money to purchase articles of clothing or other needs/wants. Parents, in developing the habits of frugality and industry in their children, need not supply all the wants or even all the physical needs of the child so long as there is a way the child can acquire these items by their own efforts.
I remember, as a child, when I needed some new socks or other article of clothing, it was up to me to buy them. So, I was off to Grandpa to weed his garden, or peddling my own garden produce at the roadside stand, or striking a deal with the neighbor to pay me to mow his lawn. Sure, my parents could have bought the small necessities for me, but they knew the experience of working for what I needed would be valuable for my character development and thus made it my own responsibility to earn those small items.
"The children left to depend upon their own resources generally prize their abilities, improve their privileges, and cultivate and direct their faculties to accomplish a purpose in life. They frequently develop characters of industry, frugality, and moral worth, which lie at the foundation of success in the Christian life." – Child Guidance, 156
"Poverty, in many cases, is a blessing…." – Child Guidance, 342
Let us not misunderstand this to mean children should be left to fend for themselves. Children must feel loved and cared for – a lack of this security in childhood can have serious negative consequences for mental health later in life. However, the Christian parent can wisely allow certain practical challenges as part of the child's training, while still maintaining a close connection and emotional security for the child.
The Lord has set us a perfect example of this. He has promised to never leave us or forsake us. He allows difficulties to come our way, but He is always right there helping us through them. Parents can model this to their children by allowing (or even "creating") some difficulties for the benefit of the child's character, while still always being with the child. Separation from loving parents is not an appropriate hardship and is not in any way beneficial to character development – it is detrimental to character development. The child should never need to face being alone while dealing with a hardship, because the Lord never leaves us alone in a trial.
Sheltered from evil associations
Yet another element in the character development of these great men of scripture was, "Sheltered in a great degree from evil associations, they were satisfied with natural pleasures and wholesome companionships." – The Adventist Home, 183
"Sheltering" can have a negative connotation sometimes, but a correct understanding depends on a correct definition of sheltering. And yet again we find the answer in agriculture. That avocado tree that I talked about earlier is a great example. Avocado trees, when small, are quite tender. A fully-mature avocado tree can withstand exposure to bad weather, such as a light frost, which would kill the immature tree. So, the avocado-tree grower puts his seedling trees in a sheltered environment and awaits their growth. He doesn't try to rush the process or force the tree to "toughen up" by planting it right out in the field. No, he keeps it in the shelter and allows just the right amount of sun, water, and wind to strengthen it without injuring it. A tree injured by overexposure while young will be a weakened adult tree.
In the same way should we develop character in childhood. It is proper sheltering and protection during childhood that strengthens the character to withstand the storm as an adult. Just as harsh exposure to the young plant will weaken it for life, so will exposure to negative influences and associations weaken the tender and impressionable character of the child for all the adult life. What is needed during childhood is a spiritually-strong and emotionally-secure environment, with just the right dose of "sun, water, and wind" – the natural and practical difficulties of real life within the home – to strengthen the character for adulthood.
A love for the good and the pure is developed by exposure to those things. To teach a child what is bad by exposing them to the bad is a reversal of God's plan. The Lord says that we become changed to the likeness of that which we behold. We should immerse children in the good. Let them constantly behold what is pure and right, that by beholding they will become changed. Then, later, when evil is presented, the know of a certain what is true and will turn from the false.
Country living
Last, but not least, that I will mention here of the factors in character development in the lives of great men is, "how many of these were reared in country homes." – The Adventist Home, 183
This environmental factor in character development is, quite literally, environmental. It concerns where we live and our surroundings. Living in the country has many benefits, which should be the topic for another article, but I mention it here because country living actually makes it easier to implement the other environmental factors mentioned above.
Activity and work don't need to be manufactured when living in the country. With all the chores to be done (especially in the garden and yard), and the great outdoors to explore, getting plenty of physical activity and spending time in useful work can be a natural part of life in a country home.
Difficulty and hardship also tend to occur quite naturally when living in the country. The garden must be weeded even when it's hot outside, and the firewood must be carried in even when it's cold. When at a greater distance from the conveniences of the city, one must learn to plan ahead, economize, and sometimes just do with less.
Sheltering from evil associations becomes default in the country setting, as one is usually at some distance from many of the negative influences of city life. In the country, one may be surrounded with the works of God and not the inventions of man.
"Instead of dwelling where only the works of men can be seen, where the sights and sounds frequently suggest thoughts of evil, where turmoil and confusion bring weariness and disquietude, go where you can look upon the works of God. Go where, apart from the distractions and dissipations of city life, you can give your children your companionship, where you can teach them to learn of God through His works, and train them for lives of integrity and usefulness." – Country Living, 16
The correct role of environment
In conclusion, let us be careful to place environment in its proper role. As anyone in agriculture knows, while environment is very important, it is not the only factor involved. That avocado tree, even in the best environment, will not develop its full potential if left to itself.
Suppose I decided that my desire to grow avocadoes was worth leaving the beautiful state of Michigan. So off I went to a southern clime' and planted some avocado trees. While waiting for them to grow, I vacationed, watched TV, and in general had a good time while completely ignoring my avocado trees. At the time I expected the tree to be mature, I went to pick my avocadoes.
Would I have a good harvest? Likely not. But why? The environment was good!
Environment is not the only factor. It certainly makes the process of avocado-tree growing easier, or even possible at all, but those trees also need my care and attention.
The same is true of character development. We should seek to provide the best environment possible, but parents must not consider their job complete having provided the ideal environment. They must watch the development of character with undivided attention, molding, correcting, removing the bad weeds which crop up. Above all, parents must be there, with their children, modeling to them the character of God and the relationship He wants to form with each of His children.
Check out the next post in this series on character development. Or, head over to our store at aThinkingGeneration.org and get our latest DVD series, Educating A Thinking Generation, in which session 6 is entirely focused on the development of character.
Happy little avocado growing!
Joshua White
---
---
References:
Physical Activity and Performance at School, Journal of the American Medical Association of Pediatrics, Jan. 2012
Best J. R. (2010). Effects of Physical Activity on Children's Executive Function: Contributions of Experimental Research on Aerobic Exercise. Developmental Review : DR, 30(4), 331–551. https://doi.org/10.1016/j.dr.2010.08.001
Fundamentals of Christian Education, Ellen G. White. (Available on the ATG Store)