Why Your Child Should Do Chores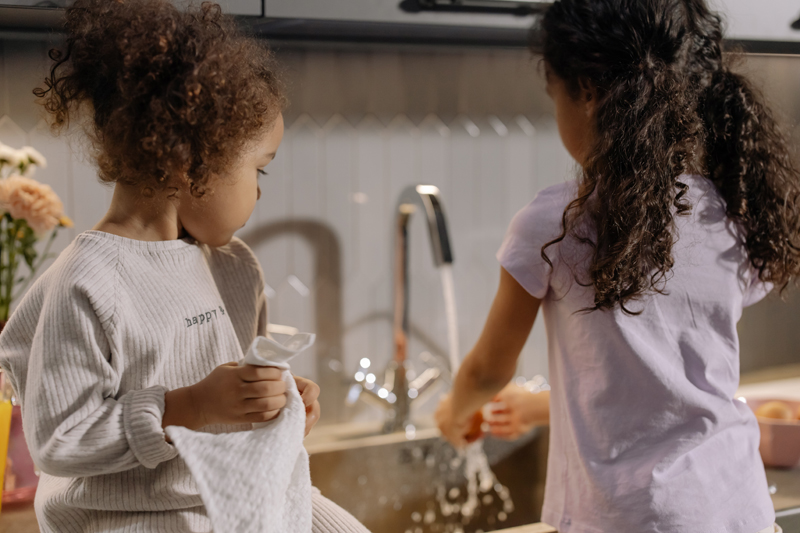 Our family was visiting some friends who lived out-of-state, and we had spent the night at their home. After breakfast, while we were chatting and visiting, I noticed their three-year-old slide out of her chair, toddle over to the broom closet, retrieve a broom, and begin to sweep the kitchen floor. She swept the edges of the room, under the cabinets, and around the table. She then stopped and looked up at the adults sitting at the table. I could tell she was thinking something over, but I wasn't sure what was happening in her little mind. She then went over to her mom and whispered to her, "Mommy, can I ask her to lift up her feet? There's a crumb under her foot."
This little girl had done a better job of sweeping the floor than most adults would have done (and with a more cheerful attitude), and she was only three-years old.
One of the most common complaints that parents have is that their children don't keep their rooms tidy or clean up after themselves – let alone help out with the daily household chores. But it can take a tremendous amount of effort and patience to teach a little child to help with the household chores, and sometimes it's a whole lot easier to just do the jobs ourselves, so why should we bother?
There are far more benefits of teaching your child to help with the chores than just having someone to help out with the dishes. Research provides an abundance of reasons you should teach your child how to work. Here are just a few:
1. Expecting a child to do chores helps a child learn to be respectful.
When seven-year-old Micah tramped through the house with muddy shoes, his mom was overwhelmed with feelings of frustration and exasperation. How many times did she need to remind her son to take his shoes off when he came into the house?! All her instruction, pleading, and threats seemed to fall on deaf ears.
We sometimes hope that doing things for our children will cause them to appreciate us more, but "it is often the case that the more their parents do for them the more ungrateful they are, and the less they respect them." [1]
Many children show no apparent concern that their messes cause more work for the adults who clean up those messes, because a young child's mind struggles to learn something that the child has not experienced. This means that young children cannot fully understand the work that goes into keeping the house clean unless they are participating in the cleaning process themselves.
When children regularly participate in the household duties, they gain a new respect for the time and effort involved with keeping a house clean – and they tend to be more careful about keeping it clean.
2. Being involved with the daily chores can increase a child's sense of self-worth.
While parents should not encourage pride in their child's character, a healthy sense of self-worth is important for a child's emotional health and mental well-being.
Praising a child has been shown to be a less-than-optimal way to build a child's sense of self-worth. And some research shows that praise can actually backfire and contribute to low self-esteem, self-esteem that is dependent on the opinion of others, and even depression later in life.
Conversely, teaching children to work and to help with the family responsibilities is an extremely healthy way to help build their sense of self-worth. As children accomplish tasks, they begin to see themselves as capable, and they feel the intrinsic satisfaction of doing something that has value and meaning. And, approached correctly, requiring a child to help with the functioning of the household can make him feel like an important, valued, and trusted part of the family.
The confidence a child develops as he gains skills and learns to complete tasks can help build a child's sense of self-worth in a very healthy way.
3. Regularly doing chores teaches a child patience and perseverance.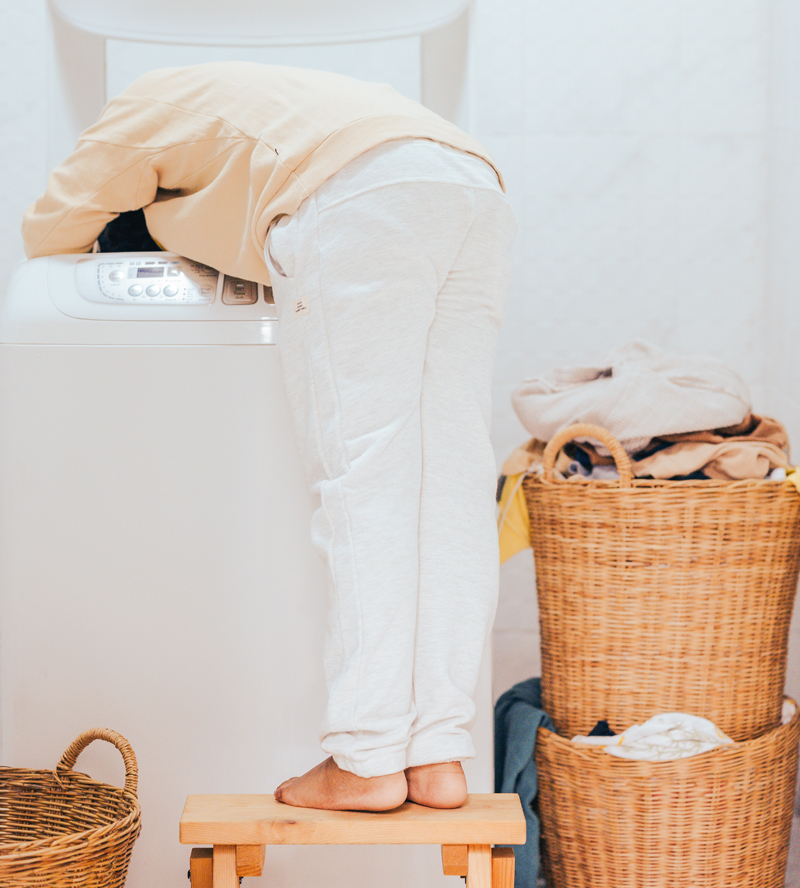 Unlike toys and video games, mopping the floor is not a push-button, instant-reward activity. It takes time and effort and self-discipline to accomplish the task of washing a sink full of dishes. The more a child is involved with chores, the more opportunities he has to develop these good character traits of perseverance and patience. This is especially true when the chores are done with a happy attitude (how to accomplish this in the next post) because a connection is made in the child's brain between perseverance and a positive experience.
4. Doing chores helps develop cause-to-effect reasoning.
From the time they were two-years-old, all of Todd and Maria's children were responsible for doing their own laundry. The two- and three-year-olds received help, guidance, and training from Mom and Dad, but by the time each of them reached four years of age, all five of their children were very capable of handling their own laundry.
One day, as the family was getting ready to go on a special family outing, eight-year-old Isabel (the child who Todd and Maria's creatively describe as their carefree, fun-loving one) came out of her room with a distressed look on her face. Apparently, the previous day, Isabel had decided to ride bikes with her siblings instead of doing her laundry, and she had run out of clean clothes. Now she had nothing to wear that day. This caused quite a bit of inconvenience for Isabel, but she never again got behind on her laundry. Why? Because that experience (and others that her parents allowed her to have) helped develop cause-to-effect reasoning in her mind in a very concrete, practical way.
Daily chores tend to have built-in natural consequences. Involving children in the household chores allows children to develop cause-to-effect reasoning early in life when the consequences are milder than they may be when they are older. Running out of clean clothes is not as serious as missing an important meeting at work. Cleaning the floor after you wore your muddy shoes in the house is a more manageable consequence than is paying a steep fine or causing an accident after carelessly running a stoplight.
Children who develop cause-to-effect reasoning at a young age tend to be more responsible and make good decisions as teens and as adults.
In the book Child Guidance, page 104, parents are instructed to "Teach your children to study from cause to effect". Good decision-making is dependent on good cause-to-effect reasoning. When a child's decision making is shaped by good cause-to-effect reasoning, he/she will not only tend to be more responsible and make good decisions in practical, everyday life, but that skill will be naturally and readily applied in his/her moral decisions.
5. Children who do chores grow up to be more successful adults.
Parents are so eager to help their children be successful. They send them to the best schools, teach them good social skills, get them involved in extra-curricular activities, and try to help them do well in school. But ironically, in all their efforts, parents often crowd out a very important factor, the one factor among all these that has actually been shown to help children be successful in life – useful work.
With all the activities that we involve our children in, we neglect the very important activity of learning to work.
Research shows that a child's involvement in family chores at an early age is one of the best predictors of success later in life. [2] A child's ability to work, to persevere, to think through problems, is more conducive to success in life than are his academic scores.
6. Children who do chores grow up to be happier adults.
Several long-term studies have shown that children who are regularly involved in the household chores are happier as adults. This is especially true when children are taught that work is a blessing. God created us to be active and useful and we are happier when we follow His perfect plan.
And more!
Children develop numerous other skills and positive character qualities when they are involved in the daily chores, such as self-discipline, independence, time-management, unselfishness, self-reliance, and more.
While it may be easier to just mop the floor yourself rather than deal with your three-year old splashing water all over the kitchen cabinets, research suggests that chores carry one of the highest benefit-for-the-effort ratios of all the skills you can teach your children.
"For their own physical health and moral good, children should be taught to work . . . . If they would have pure and virtuous characters, they must have the discipline of well-regulated labor, which will bring into exercise all the muscles. The satisfaction that children will have in being useful, and in denying themselves to help others, will be the most healthful pleasure they ever enjoyed." [3]
How to Get Your Child to Do Chores (and Enjoy Them)
How can you teach a child to do chores cheerfully? What chores can or should children do? At what age should children start doing chores? Should you pay your child to do chores? Answers to these questions in the next blog post.
---
References:
1. Adventist Home, 294
2. Marty Rossmann, "Involving Children In Household Tasks: Is It Worth The Effort?" (2002)
3. Child Guidance, 342