How to Boost Your Child's Creativity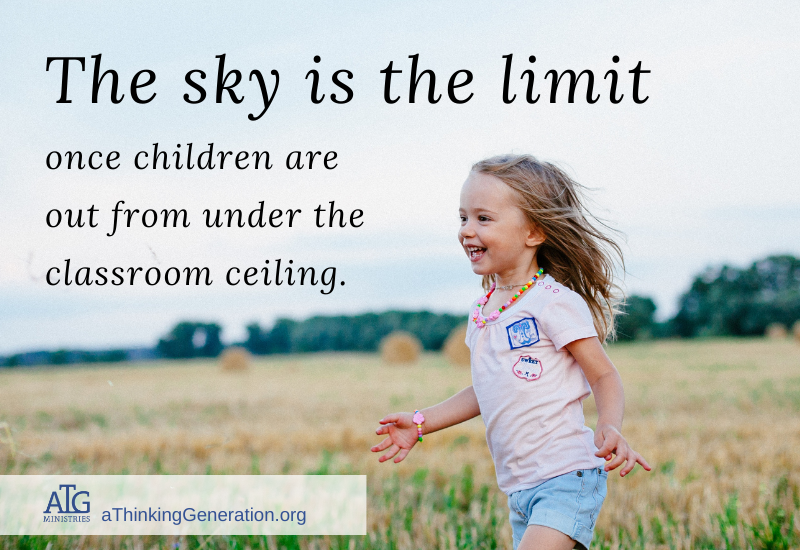 Creativity is the spice of life…isn't that how the saying goes? Maybe not exactly, but creativity is a vitally-important and God-given ability. To be able to come up with new ideas and to think outside the box are important life skills. Parents are eager to encourage their children to develop creativity, and rightfully so. So, how to help children develop their creative potential? Keep reading for five helpful tips for developing creativity in your child.
1. Don't Crush Creativity
The term developing creativity is a bit of a misnomer. The reality is that children are born with strong creative ability which will develop quite naturally if unhindered. The problem is, we often unintentionally quash creativity by following some of the common child-rearing and educational practices today.
Creativity isn't easily taught, but it does flourish quite easily if allowed to. You can't give a child a class on being creative, but you can take them outdoors and allow them time to play. You can't tell a child exactly how to come up with creative solutions to a problem, but you can involve them in everyday life problems and patiently allow them to develop and try creative solutions – even if you know their solutions won't work. You can't force creativity, but you can allow it time and space to develop.
Spend time working and playing with your child in everyday life activities. Problem solving in the simple tasks around the home is one of the most effective environments for a child's creativity to grow. Listen to and value your child's suggestions and ideas. Ask your child questions – real-life questions that encourage him to think. With a bit of encouragement, space, and time, a child's natural creativity will blossom.
2. Avoid Media
That smartphone or tablet might be an easy babysitter, but it is arguably the single greatest creativity killer in children's lives today. The great mass of science showing the damages to children from media use is outside the scope of this short article, but that media will greatly hinder creativity is a logical conclusion even without delving into the science.
A child playing with some simple toys or real-life objects must use his own imagination and creativity as he plays. A block of wood pushed along through the dirt becomes a powerful (and noisy!) bulldozer in the mind of a 6-year-old, and the sky is the limit for the variations of clothing a 3-year-old might put on his favorite teddy bear. On the video screen, however, there is no need to imagine the bulldozer, and the costumes in the puppet show or cartoons that the 3-year-old watches have already been created. There is no need of imagination or creativity – only passive receiving of something someone else already imagined. Dr Nicholas Kardaras, world-renown addiction specialist and researcher on the effects of media, explains this problem well:
"Kids' brains develop during key developmental windows when they engage their active imagination in such things as creative play. These windows are when the body builds the most neuronal connections. Kids who are just passively stimulated by a glowing screen don't have to do the neural heavy lifting to create those images. The images are provided for them, thus stunting their own creative abilities." Dr. Nicholas Kardaras [1]
3. Get Out of the Classroom
Unfortunately, most conventional modern schooling methodology is not very conducive to the development of creativity. In our efforts to develop, teach, and quantify creativity, we usually end up damaging it.
Some years ago, NASA decided to develop a test for creativity. They needed to measure the creative potential of their rocket scientists and engineers. This was no easy task, to be sure. How does one measure creativity on a test? But the two scientists assigned to this problem – Dr. George Land and Beth Jarman – did develop an excellent test which measured divergent thinking, which is the ability to consider a particular problem and develop multiple solutions. We would usually refer to this as thinking outside the box, or problem solving.
After satisfying NASA's need to measure their scientists' creativity, Land and Jarman were curious to study more about the development of creativity. Where does it come from? How early does it develop? Was it genetic or developed by experience? The test they had developed was actually quite simple, so they decided to apply it to some children. They tested 1,600 children ages 4 and 5.
To their surprise, 98% of the 1,600 children scored as creative genius! These 4- and 5-year-olds were more creative than the NASA rocket scientists! Were these children unique somehow? They decided to turn the study into a longitudinal study and test the same children five years later.
At age 10 after having been schooled for approximately five years, only 30% of the children scored in the creative genius category!
At age 15, only 12% of this same group of 1,600 children now scored as creative genius.
The same test applied to adults found only 2% could be considered creative genius.
The results are disturbing, and the implications important. Schools are not doing a good job of developing creativity. In fact, it seems the best way to stay creative is to avoid the modern school system altogether. To be clear, this is no criticism of all the wonderful teachers who spend so much time and effort to help their students. But even most teachers will agree that the system could use some improvement. The system is designed to tell children what to read, to tell them what to study, and to tell them what facts to learn. They spend their days absorbing what someone else has developed, packaged in bite-sized pieces, and fed to them through the instruction of their teachers. No creativity is required in the application of the information either, as they regurgitate what they learn on a test – the same test everyone else is taking. In short, school teaches children what to think and how to think and allows very little space for true creativity, imagination, and divergent thinking.
Allow your child some learning outside of the textbook. Most of life's most valuable lessons are learned outside the classroom as your child spends time with you – cooking, doing the laundry, cleaning house, working in the garden, and other such daily chores. These practical duties of life provide endless opportunities for children to problem solve in a manner appropriate to their age and ability. Figuring out how to fold a shirt might be quite the challenge and creativity-developer for a toddler, making a new recipe may help expand the mind of the older child, and keeping pests out of the garden is a perfect encouragement for the creativity of a teenager. The sky is the limit once children are out from under the classroom ceiling.
4. Slow down
Life is busy, and seems to be getting busier, and our children are paying a price. Rates of anxiety and other measures of stress have skyrocketed in children in recent years. Stress is a sure killer of creativity, as the brain shuts off "extra" areas in favor of focusing on survival. Children's lives are crammed full of activities – school, homework, music lessons, sports, etc. With so many pre-programmed activities in their schedule, children don't have time to be creative. Where is the opportunity to stop and watch the birds when the nature hike is scheduled for only an hour and they must rush to the next activity? Where is the time to imagine that block of wood as a bulldozer when there's no time to play in the dirt? Children need time to explore, to problem solve, to reflect, and to think.
Be patient with your child and allow them the space to explore, discover, and even get a little messy. Take time to converse and answer the million questions they have – encouraging the asking of questions also encourages creativity. Be flexible and allow some variation to the plans and schedule if a learning or creativity-developing opportunity presents itself. Acknowledge their efforts toward a task or problem solving – even if they don't succeed.
5. Go Outside
As the perfect alternative to the tell-them-what-to-think environment of the classroom, the great outdoors provides children with a chance to develop their creative potential through exploration. Numerous studies have found that children who spend regular and significant time in nature are more creative. Nature provides activities with an unlimited number of variations. While a manufactured toy played with indoors allows a child only a set number of uses, in the great outdoors a simple stick can be a tool for digging a hole, a framing member for a tipi, something to throw, a bridge for ants to cross over a puddle, and the list goes on. An article from Greater Good Magazine, published by UC Berkley[2], states, "…nature provides a rich tapestry of 'loose parts'—sticks, stones, mud—that encourage pretend play and exploration, creativity and problem solving." (Check out even more benefits of nature in our recent blog article Five Benefits of Nature for Children.)
In addition to allowing some free play and exploration outside, be intentional to spend time together with your children and look for teaching moments. Take a walk through the woods and talk together. Ask questions and let them ask questions about what they see and hear. Build a fort together, play hide-and-seek, run and jump, and enjoy being a child with your children. You'll connect their hearts with yours, develop their creativity, and maybe even find yourself becoming more creative!
---
References: